Live Entertainment at Le Monde Hotel, Edinburgh.

Live entertainment at Le Monde Hotel, Edinburgh!
Join us for the amazing"Astonishment," Edinburgh's high-energy variety, magic and comedy show.
May is just around the corner, meaning the warmer weather and the lighter nights is the perfect excuse to see live entertainment at Le Monde Hotel.
Featuring an eclectic cast of performers, including magicians, mind-readers, acrobats, and more; Astonishment is guaranteed to keep you laughing, gasping, ooh-ing and ahh-ing from start to finish right in the heart of George Street, Edinburgh.
Whether you're looking for laughs, thrills, or just a chance to be amazed, this show has something for everyone. Performed in our Parisian inspired event space, Dirty Martini, Le Monde is the place to be this May!
Make an evening of it and dine before the show! Click here to view our brand new Spring 2023 menu.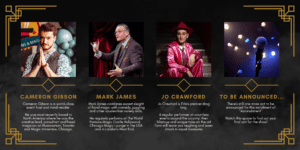 Meet the performers of Astonishment Live at Le Monde, Edinburgh.
MARK JAMES
Mark James has worked professionally for almost two decades in over 40 countries worldwide.
He combines expert sleight of hand magic with comedy, juggling and other vaudevillian variety skills to create a unique and amazing show.
He's provided 'audience warm up' for many of your favourite TV shows from The Xtra Factor & The Voice to A Question Of Sport, Celebrity Tipping Point & Culinary Genius USA.
Mark regularly performs at The World Famous Magic Castle Hollywood, House Of Cards Nashville and Chicago Magic Lounge in the USA. He's also provided magic on board the world renowned Orient Express and in London's West End.
In early 2021 Mark lectured for the members of the Magic Circle and was awarded promotion to 'AIMC' as a result. This is the highest Magic Circle Membership level achievable through performance examination.
INSTANT MAGIC
Mark presents a collection of amazing magic for the nostalgic at heart. Fusing together music and comedy with first class sleight of hand and storytelling.A full 40-minute magic show performed as the second half of "Astonishment!"
This show is not to be missed!
CAMERON GIBSON
Cameron Gibson is a world-class mind-reader originally from Edinburgh, Scotland.
As a member of London's renowned Magic Circle, he's traveled around the world with his engaging and entertaining performances. After gaining experience as a resident in Glasgow's famous Wild Cabaret, he traveled the UK as a keynote speaker to over twenty-thousand people across four years.
Cameron has been featured at events for the International Brotherhood of Magicians and has sold out shows in five consecutive years at the largest arts festival on the planet, the Edinburgh Fringe.
He was most recently based in North America where he was the creative lead, consultant and head magician on Illusionarium, Toronto – The world's first immersive magic experience; and Magic Immersive, Chicago – A magic show in 360 degrees!
JO CRAWFORD
Jo Crawford, Fife's premier drag king, is a professional showman hoping that one day he can be known as "the man of many faces".
With each routine he brings to the stage, he encapsulates a different character, each more chaotic and comedic than the last!