Celebrate all things summer with July @ Le Monde Hotel Edinburgh. From live sporting to tasty afternoon tea, we have something for everyone.
Garden of Eden Mill
Step into summer and have a spritz in our brand new outdoor terrace, the Garden of Eden Mill right in the heart of Edinburgh. Eden Mill is a locally sourced gin distillery with every gin inspired by the captivating landscape of St. Andrews, each sip unravels a story of refinement and craftsmanship. The coastal waters shouldering this ancient golfing mecca, lend their essence to the gin, giving it it's unique profile.
We have taken four of Eden Mills iconic gins and transformed them into cocktails and spritz to satisfy all tastes.
The Original Gin- Eden Mills twist on a London Dry to incorporate sea buckthorn berries, lemon balm and citrus peel. This gin leaves a subtle taste of pear and lychee with a smooth finish for all to enjoy. Why not try our Original Gin Spritz or a Martini to fully enjoy this traditional gin in a classic way?
Love Gin – A lightly sweet pink gin, taste of rhubarb spice and sweet strawberries with vanilla, finishing with green apple and a hit of rose water. Fall in LOVE with our Bramble or a Love Gin Spritz to soak up the sunshine.
Golf Gin – no this gin won't help your swing! However, this botanically rich spirit incorporates ingredients that can be spotted around local grassland and coastal golf courses in Scotland. Inspired by the ocean view of St Andrews Links, created with a seaweed base with Scottish heather adding a floral undertone. Try a Gimlet to appreciate the flavours of Scotland or try our cocktail the Ladies' Tee incorporating honey, Martini Bianco and orange bitters for the perfect refreshing drink.
Passion Gin – Passion fruit, coconut and orange combine with lust to create a gin expression bursting with tropical fruit notes and full of passion! Get fruity this summer without our Tropical Love cocktail bursting with flavour to keep you cool on a hot day or stay refreshed with our Passion Gin Spritz.
Whatever the Scottish weather, we have got you covered, literally. Our outdoor terrace can be fully covered given the unpredictable climate.
Cocktail O'Clock
Weekdays are the new weekend! Join us Monday to Wednesday every week for our fantastic Cocktail O'Clock club! Try any of our classic cocktails for just £6.50 each.
From mouth-watering Margaritas to Espresso Martini we have something for everyone!
Treat yourself…
Afternoon Tea at Le Monde is the perfect way to celebrate a special occasion, or to simply unwind.
With several options available, it would be a shame to miss.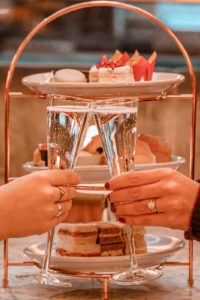 Le Monde Afternoon Tea
A selection of freshly made sandwiches, mini cakes and sweet treats, homemade scones with jam, clotted cream and a choice of tea or coffee. Served with a chilled glass of Prosecco.
Why not upgrade your Afternoon Tea to;
G&Tea
Our Le Monde Afternoon Tea served in a Hendricks Tea Pot bursting with a freshly prepared Hendricks Gin 75.
Champagne Afternoon Tea
Swap out the cocktails and Prosecco for a glass of Laurent Perrier.
Wimbledon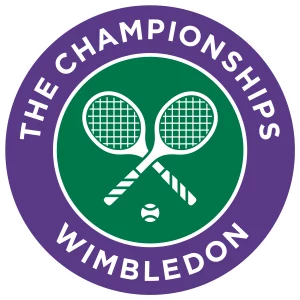 Love Tennis?
Why not pop along to our Champagne Bar and watch all the Wimbledon coverage live as it happens!
Live from 11am each day, you don't need to book in advance!