Looking to treat that special father figure? Father's Day at Le Monde is the best place to be!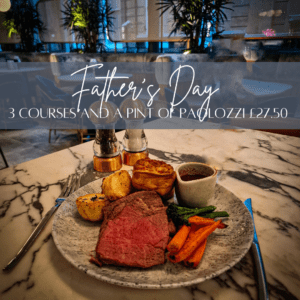 Celebrate Father's Day 2023 at Le Monde Hotel, Edinburgh. Our central location on the heart of Edinburgh's iconic George Steet makes us the perfect place to gather and celebrate.
The Origins of Father's Day!
Father's Day was created in the early 20th century to celebrate and honor the role of fathers in the family and society. The idea originated in the United States in 1910 by a woman named Sonora Smart Dodd, who wanted to recognize her own father for the sacrifices he had made raising his children. Father's Day became an official holiday in 1972 when it was signed into law by President Richard Nixon. Today, Father's Day is celebrated all around the world, acknowledging the invaluable contribution fathers make to their families and communities.
Join us for a tour around the world with a set menu inspired by tastes and spices from some of the greatest cites. With 2 courses starting at £22 per person it would be rude not to!
What's more, every Father will receive a complementary pint of Paolozzi.
The perfect Father's Day gift!
A Le Monde Boutique Hotel, Bar & Restaurant gift vouchers are great option to create great memories for people you love. We have a selection of vouchers, from a relaxing champagne afternoon tea, cocktails for two, or even a romantic stay-over in our beautifully designed hotel with rooms inspired by the world's most exciting cosmopolitan cities.
Treat them to an experience they'll remember.